Welcome to my "Reiki Juku" website.
My name is Harumi and I am a Reiki master/teacher. 
My goal is to teach students to understand and appreciate the Reiki energy. I believe it helps to achieve happiness and contentment in your life. 
We will work together to learn to deal with any worries or fears through the learning of the Reiki path.
I host "Reiki shares" occasionally. Anyone interested in Reiki can join us.
Practitioners are welcome too. Please contact me for further details.
** Currently, I am not teaching Reiki Class.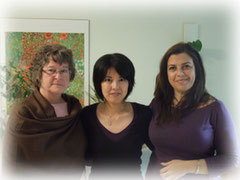 From left my Reiki sister, myself, my Reiki master